Reading Time:
6
minutes
You never think it will happen to your child, until you get a gut-wrenching private message from a distraught friend filing a missing child report. Though her teenage son was swiftly found several states away, he was a victim of grooming, cyberstalking, and sextortion. 
Cyberstalking and sextortion is a growing menace – especially to our young people on social media.  Sextortion has grown so exponentially that the FBI has issued a warning to parents!

Stalkingawareness.org calls stalking "a pattern of behavior directed at a specific person that would cause a reasonable person to fear for the person's safety or the safety of others; or suffer substantial emotional distress."
Cyberstalking and cyberbullying are like identical twins – very hard to tell apart! Stalking of any kind creates a fear-based power dynamic over another person. Cyberstalking includes any act of online bullying.
"Cyberstalking is a term that refers to the misuse of the Internet or other technology to stalk and harass someone. A stalker may contact you by email, social media sites, a messaging app, or through other online spaces/websites." – WomensLaw.org
Who is most vulnerable to cyberstalking?
Stalking used to be a somewhat rare crime of passion or bullying most often committed by adults against adults. Not anymore!
According to a 2022 Pew Research study, 97% of teens use the internet daily and 46% of teens say they are online constantly. 
That's not all – 48% of young adults, ages 18-29, surveyed in another study say they have already experienced severe forms of online harassment (often not reported as cyberstalking). 
Teens and even tweens are in a high-risk category for cyberstalking, cyberbullying, and online grooming. The stakes are way too high to ignore!
48% of young adults... have already experienced severe form of online harassment.
Parent alert: 3 common danger zones for cyberstalking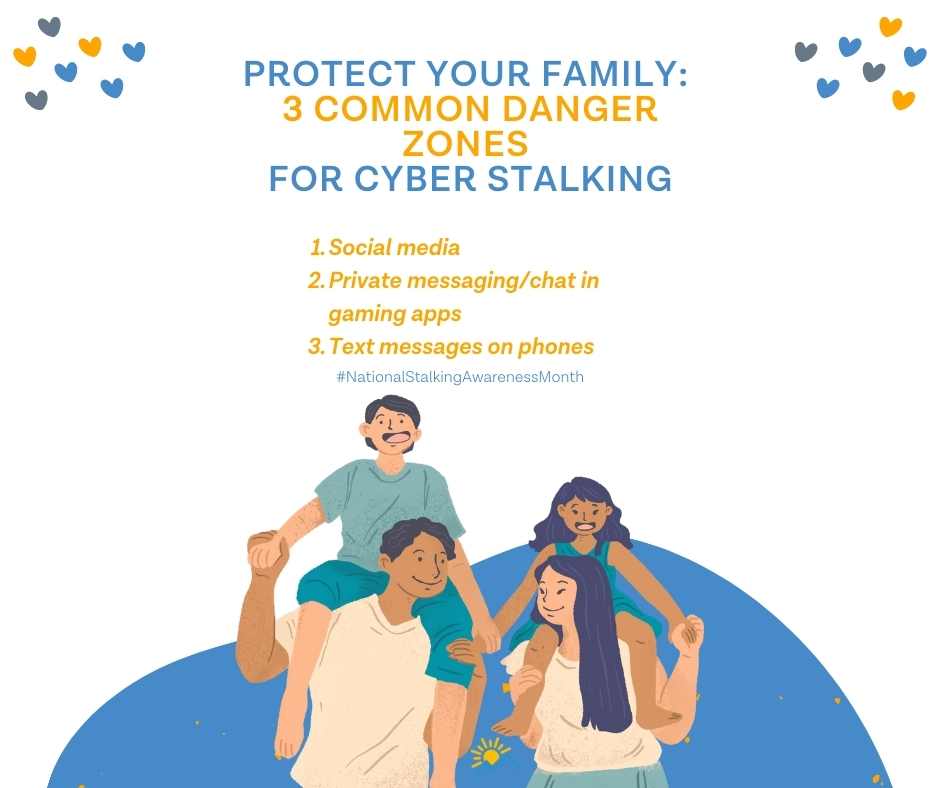 1. Social media
Not surprisingly, social media is reported as a primary online gateway for cyberstalking. Even scarier is the rapidly growing number of tweens who are on social media (despite the so-called age restrictions). A  2022 New York Times article reported on alarming Common Sense Media survey results.  An average tween logs five hours and 33 minutes of daily screen time, including social media time.
2. Private messaging features
Most social media apps include private messaging options. Private messaging or chat features are hidden danger zones where predators, stalkers, and bullies often target their victims. 
Parents should also be aware that popular gaming apps, such as Roblox, have chat features, too. (Pro tip: disable chat and set a security pin for Roblox in particular.)
An average tween logs five hours and 33 minutes of daily screen time!
3. Text messaging

Text messages are easily hidden or deleted, so cyberstalking may start in the form of sextortion via text. In turn, sexting is an easy gateway to sextortion.  For example, The Wall Street Journal recently exposed a dangerous Snapchat sextortion scam targeting teen boys.

Talking to your tweens and young teens about sexting and sextortion – including cyberstalking – before you give them a phone or online access is absolutely vital. (Here's our handy guide to help with this conversation!)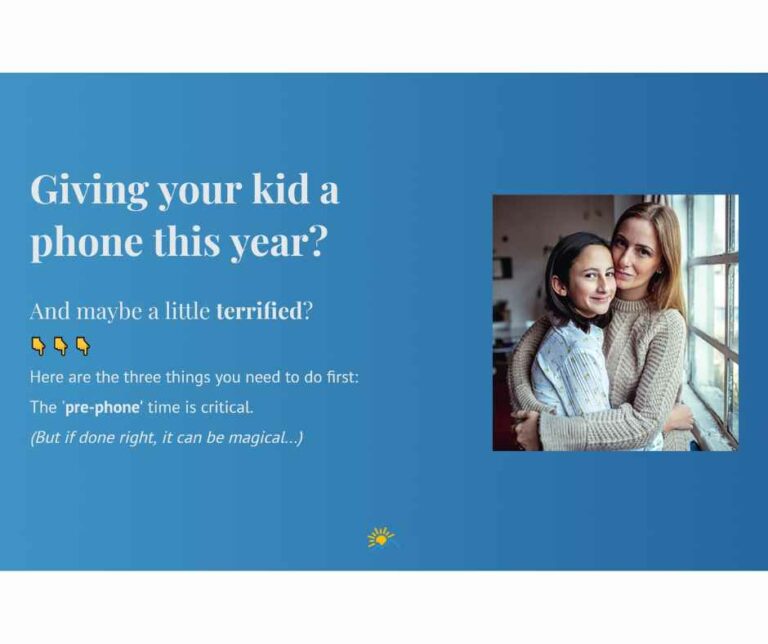 Why cyberstalking matters to everyone
It's illegal to sell alcohol to minors – IDs required, right? But somehow the internet has escaped this kind of safety net for children. We are beginning to reap the consequences!
Underage perpetrators – porn's toxic influence
Recently, Sexual Assault Nurse Examiners (S.A.N.E nurses) are noting an abnormal rise of Child on Child Sexual Abuse. Children show up in the ER with signs of sexual abuse – and their abuser is a minor sibling or friend. 
One S.A.N.E nurse, Heidi Olson, links this to the easy access children have to porn. Porn twists normal childhood development and understanding of healthy, appropriate relationships. Consent is greatly blurred by porn. 
As a result, some children are becoming sexual predators – clueless about boundaries. This ranges from cyberstalking, cyberbullying, and sextortion to actual physical sexual assault, child on child sexual abuse. Many simply never get caught young or taught better.
Do we really want our future generations of societal leaders – doctors, lawyers, judges, politicians, educators, and law enforcement – to grow up normalizing sexual violence of any kind?
Cyberstalking, social media, and teen dating violence
Cyberstalking is a crime with the potential of escalating into actual physical sexual assault or even human trafficking. 
For example, sexting and watching porn is often a gateway to teen dating violence. Since porn normalizes sexually violent behaviors, many teens who regularly view porn have been desensitized. Social media also normalizes highly sexualized behaviors in teens. TikTok is one prime example! 
Due to these influences, a young person may not even realize they are actually cyberstalking. However, cyberstalking is a crime with lasting consequences including a criminal record. Cyberstalking criminal charges range from a Class A misdemeanor to a felony for repeat offenders. 

"Even if your state does not have a criminal law specifically against "cyberstalking," in most states, the act of repeatedly contacting or harassing a person through the Internet or other technology is still considered a crime under the state's stalking or harassment laws."  – WomensLaw.org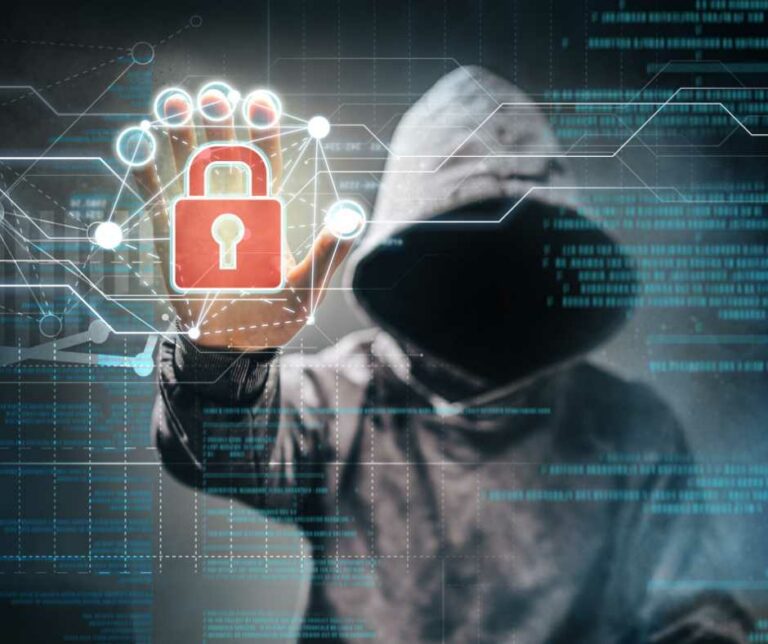 How to fight back against cyberstalking
Every single person can do their part to fight cyberstalking! As your grandma might have said, "An ounce of prevention is worth a pound of cure." 
Children everywhere deserve kindness, protection, and nurturing of their beautiful potential. This includes supporting internet safety laws and setting up age-appropriate internet restrictions.
Also provide simple guidelines for safe and appropriate online behavior. Young people need to know what is off-limits. Most importantly, they need to know how to respond when someone violates safety boundaries. 
7 safety tips to help prevent cyberstalking and cyberbullying.
Parents are the first line of defense against cyberstalking. Today digital parenting is a big challenge! Here are just a few common-sense tips. 
Talk openly and often about family values around sex, never sharing nudes, or talking to strangers online. Explain why!

Set up family protection software on all devices with internet access. Cisa.gov agrees. Monitoring your childrens' online activity regularly IS good digital citizenship.

Keep online devices out of bedrooms, especially at night. 

Password-protect all of your own devices and don't share this with younger children.

Intentionally replace screen time with "together time" spent doing enjoyable activities. 

Let your children know they can talk to you about anything or anyone. (Be aware. Cyberstalkers are sometimes people that a child knows personally.)

Keep personal information private, including photos and location settings on devices your children use.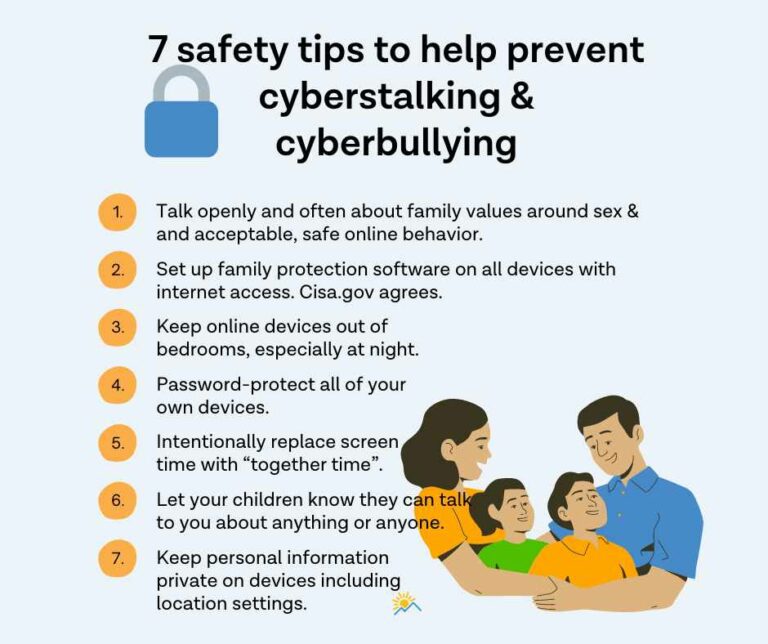 Share resources and help for victims of cyberstalking
Sextortion falls under federal cyberstalking laws, according to the FBI. By reporting EVERY violation to the police, you create a traceable pattern for them to nail a perpetrator when another victim also reports. Patterns make it possible for law enforcement to prove cyberstalking charges in the future. 
Report and track the pattern of harassing behaviors. Save texts or other messages with screenshots to give to the police.

What to Do if You are Being Stalked

Ask for an order of protection through the court system.

Ask your local police if they employ a victim advocate to help you develop a safety plan. 

To find a victim advocate, call VictimConnect toll free: 855-484-2846.

Also report cyberstalking or sextortion using Cypertipline.org or

1-800-THE-LOST(1-800-843-5678).
If you or a loved one have experienced sexual assault, you can find steps and resources at Helping Survivors. 
We also need to stop the influence of porn on our future generations to help prevent sexual bullying and sadly, child on child sexual assault.

However, unless the internet permanently "breaks", cyberstalking is not going away. Please consider sharing this post with family and friends!

By banding together and sharing vital information, we hope to make this world a better, safer place for our children. 
"Cyberstalking — FBI." FBI, 30 October 2018, https://www.fbi.gov/news/stories/sentences-in-separate-cyberstalking-cases-103018. Accessed 4 January 2023.
"Editorial| Volume 60, ISSUE 6, P629-630, June 01, 2017 PDF [244 KB] Save Share Reprints Request Social Media and Substance Use: What Should We Be Recommending to Teens and Their Parents?" Journal of Adolescent Health, vol. 60, no. 6, https://www.jahonline.org/article/S1054-139X(17)30158-1/fulltext.
Moyer, Melinda Wenner. "Kids as Young as 8 Are Using Social Media More Than Ever, Study Finds." The New York Times, 24 March 2022, https://www.nytimes.com/2022/03/24/well/family/child-social-media-use.html. Accessed 3 January 2023.
Olson, Heidi. https://fightthenewdrug.org/porn-grooms-children-to-accept-violence-and-abuse-in-relationships-heidi-olson/.
"Stalking/Cyberstalking." WomensLaw.org, 12 February 2020, https://www.womenslaw.org/about-abuse/forms-abuse/stalkingcyberstalking. Accessed 2 January 2023.
"Teens, Social Media and Technology 2022." Pew Research Center, 10 August 2022, https://www.pewresearch.org/internet/2022/08/10/teens-social-media-and-technology-2022/. Accessed 3 January 2023.
Thompson, Jerry. "FOSI | 10 Tips to Protect Your Child from Cyber Bullying." Family Online Safety Institute, 21 June 2018, https://www.fosi.org/good-digital-parenting/10-tips-protect-your-child-cyber-bullying. Accessed 2 January 2023.
"U.S. student cyber bullying victimization rate 2019." Statista, 7 July 2022, https://www.statista.com/statistics/509327/student-cyber-bullying-victimization-rate-usa/. Accessed 2 January 2023.
Vogels, Emily A. "The State of Online Harassment." Pew Research Center, 13 January 2021, https://www.pewresearch.org/internet/2021/01/13/the-state-of-online-harassment/. Accessed 2 January 2023.